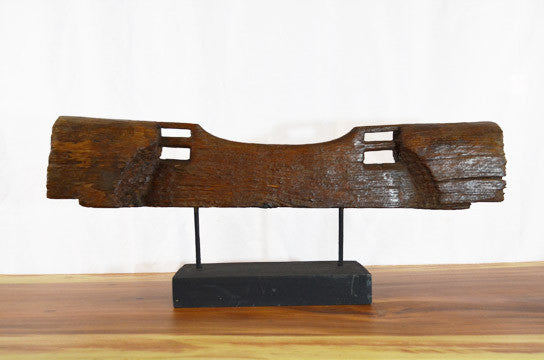 Water Buffalo Yoke Sculpture
$285.00
COMING SOON. Please contact us at info@biggrassliving.com or 210-735-7999.
Naturally sculptured by years of toil and use, this antique water buffalo yoke is complete with the holes that once secured strong leather harnesses. The natural teakwood grain and distressed scars are enhanced with a hand-rubbed waxed finish. The piece rests on a stable, black wooden display stand.
We travel the world on the lookout for functional pieces that age and wear have transformed into art. These original rustic pieces reflect the tradition, design skills and quality local materials combined to solve everyday transportation, construction and domestic necessities throughout different eras and cultures.
See more Cultural Artifacts